There are several reasons to install backyard fencing: privacy, security, and pet safety, to name a few. The right fence can even make your backyard's landscape look better. If you're new to the world of fence design, we have you covered with these 13 backyard fencing ideas.
Note: All prices listed here are approximate, as the true cost of your fence depends on several variables, including what specific fencing material you choose, where you live, and whether or not you hire a contractor. These estimates are intended to help you compare the cost of different fence types.
13 fencing ideas for your backyard
1. Wooden fence
Wooden privacy fences are one of the most popular choices for backyards because they're relatively inexpensive and come in many different styles. Board-on-board, stockade, and dog-ear are all styles that will keep prying eyes out of your business. For a more modern fence, you could install one with horizontal slats.
The cost of a wooden fence varies depending on what style and what type of wood you choose.
Cost of material: $10-$20 per linear foot.
Necessary maintenance: Paint or stain every two to three years to prevent rotting.
2. Pallet fence
If you want the look of a wooden fence but don't have the budget, consider building your own DIY pallet fence. You can get used pallets for free at some construction sites, hardware stores, nurseries, grocery stores, and other such locations.
Pallet fences can be surprisingly durable and long-lasting, as long as you build and maintain them properly.
Cost of material: Free (if you know where to look).
Necessary maintenance: Apply fresh sealant every few years to fend off rot and pests.
3. Decorative fence tops
For a privacy fence with a little extra flair, add decorative fence tops. They're available for several different fence types, including wood, vinyl, and composite. Fence tops come in loads of different designs, from the classic lattice pictured above to custom carved images.
Cost of material: Varies depending on material and design.
Necessary maintenance: Also depends on the material.
4. Composite material fence
Composite fencing materials like the ones pictured above might look like wood, but they're much more durable, low-maintenance, and expensive. That's because they're made of a mix of recycled plastic, wood pieces, and resin.
Composite fences come in a wide variety of styles and colors, including faux wood and faux stone. These solid fences provide privacy and security you can count on for years to come.
Cost of materials: $15-$45 per linear foot.
Necessary maintenance: Occasional washing if you notice dirt buildup.
5. PVC vinyl fence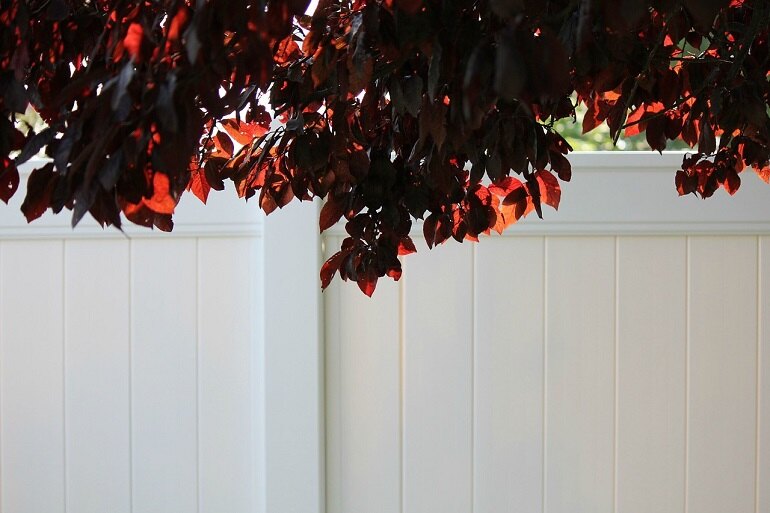 Like wood fences, PVC vinyl fences come in several different styles and colors. Unlike wood, though, vinyl isn't subject to damage from water, rot, or pests. Because it's more durable, vinyl fencing is also more expensive. Most vinyl fences are solid, like the one pictured, and used for privacy.
Cost of material: $20-$25 per linear foot.
Necessary maintenance: Occasional washing at your discretion.
6. Chain-link fence
A chain-link fence might not look like much, but this option is versatile, durable, and most importantly, affordable. Chain-link makes a great fence for dogs and other pets, and you can attach privacy slats if you want to keep your backyard invisible to the outside world.
If you're worried about the chain-link's plain look, try threading vines or other vegetation through your fence panels.
Pricing varies since chain-link fences come in so many different heights and gauges, but your basic residential chain-link can be as inexpensive as $5 per foot.
Cost of material: $5-$40 per linear foot (upper range is for tall, thick-gauge chain-link used for security).
Necessary maintenance: Apply rust protection yearly.
7. Hog wire fence
Hog wire fencing won't do much in the way of privacy, but it's one of the most inexpensive backyard fences, and it gets the job done. If you need dog fencing or garden fencing but you're on a tight budget, hog wire is a great choice for you.
Cost of material: $3-$5 per linear foot.
Necessary maintenance: Repairs if damaged.
8. Aluminum/wrought iron fence
An ornamental aluminum or wrought iron fence can keep your backyard secure without making it feel blocked in. This fence's spaced out pickets will let breezes and sunlight through while still keeping your swimming pool, pets, or small children safe.
Because aluminum/wrought iron fences come in any color or design you could want, they can fit in with any backyard's aesthetic. Their durability is an added bonus.
Cost of material: $20-$35 per linear foot.
Necessary maintenance: Sand off rust if you notice it, apply a fresh coat of primer every five years.
9. Corrugated metal fence
Corrugated metal is more affordable than most types of wood and requires much less maintenance. Plus, a corrugated metal fence is an easy DIY project.
Since corrugated metal panels are solid and can be as tall as 8 feet, they make great privacy fences. Depending on what look you want to achieve, you have lots of different style options. You can install the corrugated metal panels on their own, include wood framing (as pictured), or attach the metal sheets to stone or brick fence posts.
Cost of material: $10 or less per panel (panels range from 4 to 8 feet in length).
Necessary maintenance: Occasional washing.
10. Stone or brick fence
Using a solid brick or stone wall as a backyard privacy fence definitely isn't a wallet-friendly option, but if you have the budget, it could be worth it. If installed and cared for properly, stone or brick is extremely durable and will remain standing far into the future.
Cost of material: $10-$80 per square foot (cost depends on specific material and thickness of the fence).
Necessary maintenance: Scrub to remove grime and stains as needed.
11. Vertical garden fence
If you have a small backyard with no room for the garden of your dreams, a vertical garden fence might be for you. For this fence design, you hang flowers, vegetables, or other plants in containers from your fence. Even if you have a big backyard, a vertical garden is an easy way to add greenery and pops of color.
Cost of material: Varies depending on the plants you choose.
Necessary maintenance: Plant care.
12. Shrubbery or trees
Maybe instead of a traditional fence made of wood, metal, or the other fencing materials listed here, you'd like a living, breathing backyard privacy hedge.
There are many species of shrubs and trees that grow in clumps and can be used for privacy. Popular choices include boxwood shrub, juniper, laurel, cypress, and bamboo fences.
Cost of material: Depends on plant species, check your local nursery for pricing details.
Necessary maintenance: Plant care, regular pruning.
13. Trellis with vines
Weaving vines through a trellis is an aesthetically pleasing design idea that's also an affordable alternative to traditional privacy fencing. Depending on your specific needs, you could line your whole backyard or use a single trellis as a privacy screen for an outdoor living space or swimming pool.
Cost of material: Check local nursery for prices of vines; the cost of a trellis depends on materials and whether you DIY or buy one.
Necessary Maintenance: Plant care.
FAQ about backyard fencing
Do I need a permit to build a fence around my backyard?
That depends on where you live. Always check local zoning laws before you begin construction on a fence (or any landscape project). If your neighborhood has a homeowners association, you might need its approval, too.

If you hire a contractor to build your fence, they'll typically know the local laws and acquire any necessary permits for you. All you'll have to do is sign the paperwork.
Can you finance a backyard fence?
Many contractors offer financing options for fencing projects.
When to Call a Fencing Professional
If you're taking the trouble of putting up a new fence, you probably want it to last a long time. Your best bet then is to hire a professional fence installer near you. With just a few clicks, you'll get quotes from the best pros in your area.
Unless you choose one of the easier DIY projects (a pallet fence, corrugated metal fence, or hog wire fence, for example), properly installing a fence can get complicated. The job gets even harder if your backyard is sloped or uneven.

Adding a backyard fence to your outdoor space is one of the easiest ways to increase your home's curb appeal and security. Whether you choose classic wood fencing or something more eccentric like a privacy hedge, your backyard will be better for it.
We hope these 13 backyard fence ideas helped spark your creativity for your own landscape. And if you need some inspiration when it comes to your front yard, check out our article with 11 front yard fencing ideas.
Main Photo Credit: mrmattrobinson / Pixabay / License
Jordan Ardoin
Jordan Ardoin is a writer and editor with a passion for sustainable, earth-friendly gardening and lawn care practices. When she isn't sharing her knowledge about lawn care and landscaping, you can find her curled up with a good book and a cat in her lap.