If you're thinking of hiring a professional contractor to install a new fence for your home, you can expect to pay around $3,440, the national average cost of fence installation. Of course, your total cost will vary significantly depending on the fence material and style you want.
Across all fence types, a typical price range is $1,330 to $5,550. That's approximately $8 to $46 per linear foot, including materials and professional labor costs, for an average of $27 per linear foot.
How Much Does a Fence Cost?
National average cost: $3,440
Typical price range: $1,330 to $5,550
Extreme low end: $400
Extreme high end: $10,000
A fence for a typical backyard in the U.S. will usually cost between $1,330 and $5,550. There are many factors that can raise or lower those numbers by thousands of dollars. Larger yards, more premium materials, taller fences, and fences on uneven terrain can cost you as much as $10,000. Cheaper materials, smaller spaces, or inexpensive contractors could result in a price as low as $400.
In This Pricing Guide:
Cost Estimator by Size
When it comes to fencing, size almost completely dictates the project's price. The larger an area you need to fence in, the more material you will need and the more work hours you will have to pay for a professional fence installer.
You can estimate the price of your specific fence project using the national average fence cost per linear foot, $27. Because there are so many different fence materials, you could pay as little as $8 per linear foot or as much as $46 per linear foot.

For a small urban backyard of 500 square feet, your fence costs comes out to about $1,782 total. For an average-sized yard of 2,000 square feet, the total cost of fencing would be around $3,564. A large yard of 3,500 square feet will cost about $4,779 to fence.
Other Factors That Affect Cost
Even though the size of a fence is the biggest piece of the pricing puzzle, there are several other factors that can significantly raise or lower your project cost. These factors are part of the reason pricing can go from under $1,000 to several thousand dollars.
Material
Each fence material has its own price range. The least expensive option is a simple wire fence, which costs about $1 to $4 per linear foot (including professional installation), while the most expensive is a composite fence at a rate of about $26 to $57 per linear foot. Probably the most popular fence type is a traditional wood fence, which has a mid-range price of $14 to $31 per linear foot depending on the type of wood.
Typical price ranges (lowest to highest) for some of the most common fence materials (price estimates include material costs and professional labor costs):
| | |
| --- | --- |
| FENCE PRICE BY MATERIAL | COST PER LINEAR FOOT |
| Wire fence | $1 - $4 |
| Chain-link fence | $12 - $33 |
| Wood fence | $14 - $31 |
| Vinyl fence | $17 - $38 |
| Composite fence | $26 - $57 |
| Aluminum fence | $27 - $55 |
| Wrought iron fence | $28 - $56 |
Choosing what material you want for your fence is the first step to figuring out an accurate budget for your project.
Style
Just like there are loads of different fence materials, there are several different fence styles. Some fence styles use more material or take more skill to install, resulting in a higher cost for you. Others are simpler and therefore cheaper.
Typical price ranges for some of the most common fence styles (price estimates include material costs and professional labor costs, prices are from lowest to highest):
| | |
| --- | --- |
| FENCE TYPE | COST PER LINEAR FOOT |
| Rail fence (aka ranch fence) | $11 - $24 |
| Privacy fence | $14 - $36 |
| Board on board fence (aka shadowbox fence) | $16 - $24 |
| Picket fence | $18 - $33 |
Height
Standard backyard fencing is usually 6 feet tall, but there are other options when it comes to height. Other common sizes include 8 feet for the backyard and 4 feet for decorative fences out front.
To figure out how much a taller or shorter fence would add to or subtract from your costs, first figure out the approximate budget for your fence at standard size (6 feet) using the price estimates we've given so far. For an 8-foot fence, add an extra 25% - 35% to your budget. For a 4-foot fence, subtract about the same amount.
Gates
Gates cost more to install than regular fence panels, so you will have to factor in that added cost if you want a gate (which you probably do, for accessibility). The location of your fence and what kind of gate you need will affect how much you will pay to have it installed. An aluminum automatic driveway gate, for instance, will cost much more than a simple wooden walk-through gate.
Installing a gate will typically add $175 - $1,200 to the overall cost of fencing.
Slope of land
If you want to build a fence on a hill or otherwise uneven terrain, that means more work for the fence installer. They may need to regrade the land, which can cost between about $900 and $3,000 depending on how much work needs to be done.
Permits
Ask your contractor or check local regulations to find out if your HOA or municipality requires you to have a permit to build a fence. If you do need a permit in your area, you could pay anywhere from $20 to $400 to obtain it.
Extra Services
The following are optional services that sometimes go along with installing a new fence. If you think your project needs one of these services, choose a contractor who can provide it.
Fence removal
If your new fence is replacing an existing fence, most contractors will tear down and haul away the old one for you. How much of an additional fee this will cost depends on how many feet of fence the contractor would have to remove.
Added cost: $3 - $5 per linear foot of fence to be removed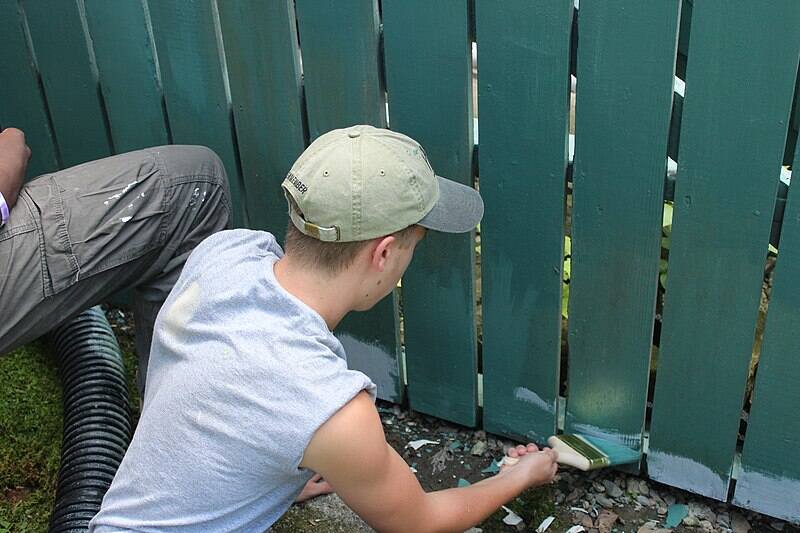 Painting/staining
Once you have your new fence installed, you may want to change its color with paint or stain. This service is mostly for wood fences, though you could potentially have other types of fences painted, as well.
Painting isn't automatically included with fencing installation, which means you'll have to pay more if you want your contractor to do it. How much you pay will depend on the quality and price point of the paint or stain you choose and how much fence there is to paint.
Added cost: $500 - $3,000
Tree or bush removal
The path you want your fence to take may be blocked by already existing features in your landscape, such as a tree or bush. In that case, you will need to remove the obstacle yourself or pay your contractor to do it. If your contractor focuses primarily on fencing, you may have to hire a separate tree service or landscaper to remove trees and bushes in the way of your fence.
The cost to remove a bush and the cost to remove a tree vary depending on the size of the plant, the complexity of the root system, and whether or not it's in an easily accessible location.
Added cost: About $385 - $1,070 or $10 - $14 per foot
Cost of Building a Fence DIY
If you are a homeowner with some home improvement or construction experience, you should find building your own fence a fairly easy project, especially if the area where you want the fence is flat. There are a few types of fences that make good DIY projects, including a traditional wood privacy fence.
Building a fence won't be easy for everyone, though. If you aren't already somewhat comfortable with construction tools, you may want to stick with a pro. The same goes for homeowners with a sloped or uneven yard. You don't want to risk a finished product that's ugly, or worse, structurally unsound.
Equipment needed
Here are the tools you would need to build your own wood privacy fence, one of the easiest types of fences to install. We've also included approximate pricing info for each tool, based on average prices from Amazon, Lowe's, and Home Depot.
| | |
| --- | --- |
| EQUIPMENT NEEDED FOR DIY FENCE PROJECT | COST |
| Spray paint | $5 |
| Work gloves | $10 |
| Mason's line | $15 |
| Paint brush | $15 |
| Protective safety glasses | $16 |
| Hand saw | $16 |
| Tape measure | $18 |
| Claw hammer | $20 |
| Level | $21 |
| Post hole digger | $50 |
| Power drill | $80 |
| TOTAL | $266 |
Cost of materials
Just like with professional fence installation, the price you pay for materials varies a lot depending on if you're using wood, vinyl, aluminum, or something else.
For now, we're including only the materials you would need to build a wooden fence and approximately how much you would spend on each material. We have listed the materials from lowest price to highest.
Keep in mind that a different type of wood could cost more or less than the average prices listed here. Treated pine is typically the most cost-effective option, while redwood is the most expensive.
| | | |
| --- | --- | --- |
| COST OF FENCING MATERIALS | COST EACH | COST FOR AVERAGE YARD |
| Wood fence pickets | $5 x 328 = | $1,640 |
| Box of nails | $12 | |
| Wood fence rails | $13 x 40 = | $520 |
| Concrete mix | $20 | |
| Deck screws | $23 | |
| Wood fence post | $28 x 20 = | $560 |
| Outdoor wood stain or paint | $125 | |
| Gravel | $400 | |
| TOTAL COST OF MATERIALS | $3,300 | |
* Total fencing costs for average yard are approximate.
How to build a fence DIY in 10 steps
1. Measure the area. First, you need to measure the perimeter of your yard (or whatever area you're building the fence around) to figure out how many feet of fence you'll need. Then you can determine exactly how many posts, rails, pickets, and other materials you need to buy.
2. Mark the space for the gate. If you plan to include a gate (which, again, you almost always will), locate where it will be before you start building. Spray paint two parallel lines on the ground to mark where the gate will go.
3. Outline the perimeter. Before you put any posts in the ground, use mason's line to outline where the fence will go. Every 6 to 8 feet along the line, mark a spot on the ground with spray paint to show where you need to dig holes for the fence posts. Make sure you space out the posts consistently.
4. Dig post holes. Using your post hole digger (or an auger, if you have one), dig your post holes in the spots you previously marked with spray paint. The holes should be three times as wide as your fence posts and as deep as one-third of the posts' height (plus 3 to 4 extra inches for gravel). Call 811 before digging so you can avoid utility lines.
5. Prepare the gravel base. Pour 3 to 4 inches of gravel into each post hole and pack it in using the end of the fence post or a tamper.
6. Mix concrete. Follow the instructions of whatever concrete mix you buy to get the concrete ready for pouring.
7. Install fence posts. Place a fence post in the middle of each post hole, sitting on top of the gravel base. Pour in your concrete around the post, then backfill the last few inches of the hole with dirt. Wait for the concrete to set, which might take several days, before moving on to the next step.
8. Attach rails. Attach the ends of each horizontal rail to the fence posts using deck screws and a power drill or galvanized nails and a claw hammer. Use a level to keep the rails straight. Attach a top and bottom rail between each post. For taller fences, you can also add a middle rail for increased stability.
9. Attach pickets. With your power drill and claw hammer, attach the pickets to the rails between each fence post. Use your level to check periodically that you're keeping all the pickets the same height.
10. Paint or stain. Once you're finished building, apply outdoor wood stain, paint, or finish to protect the wood and change the fence to your desired color.
Fencing cost: DIY vs. professional installation
Overall, installing a wooden fence yourself would cost about $3,566 if you don't already own the necessary equipment and construction materials. To have a professional fence contractor install and stain a wood fence of the same size, you would pay about $4,400.
So, building your own fence would save you about $1,000, which is nothing to sneeze at. However, you would spend more than just money to go the DIY route -- you would also have to put your own time and effort into the project. Ultimately, it's up to you to decide whether the work of building a fence is worth that $1,000 in savings to you.
Cost of Fencing by Location
So far, the numbers you've seen are national averages. Just like any other product or service, the price of fencing will fluctuate based on where you live. In a big city, you'll most likely pay more for the same fence than someone in a rural area would.
FAQ About the Cost of Fencing
1. What is the cheapest fencing to install?

Whether you do it yourself or hire a contractor, the cheapest type of fence to install is a simple hog wire fence.
2. Is it cheaper to build your own fence?

Yes, you will usually save money building your own fence than hiring a contractor for the same project. But keep in mind that either way, the actual cost depends on the material and style of fence you choose -- and how much work you want to do yourself.Â
3. Does putting up a fence add value to your home?

That depends on the aesthetic of your neighborhood, the region you live in, and other unquantifiable variables. Basically, whether or not a fence will add value to your home is a case-by-case issue. To be on the safe side, assume you won't get a monetary return on investment for your fence.
When to Hire a Professional to Install Your Fence
There are a million variations of fence you could build for your yard, each with a different purpose, aesthetic, and price point. On average, taking even the cheapest and most expensive projects into account, you'll pay about $1,330 - $5,550 to hire a professional fence contractor to install your fence for you. Depending on your project's specific conditions, that cost could drop as low as $400 or climb as high as $10,000.
Alternatively, you could go the DIY route to save money, but one of the cheapest options, a wood privacy fence, will still cost you around $3,534 in equipment and materials. Essentially, no matter how you plan to install your fence, be prepared to invest at least a few thousand dollars into the project.
Main Photo Credit: JLBarranco / Canva Pro / License
Jordan Ardoin
Jordan Ardoin is a writer and editor with a passion for sustainable, earth-friendly gardening and lawn care practices. When she isn't sharing her knowledge about lawn care and landscaping, you can find her curled up with a good book and a cat in her lap.